Living Together with Low Vision: From a Family and Supporters' Perspective
Family members and those supporting people living with low vision provide a valuable perspective from their own unique experiences and challenges.
Meet Joe

"I want her to see things that she may not be able to see in the future. Travel has become very very important in our lives - seeing the world before there might be a time that she can't see it. That's become a goal of mine.
My name is Joe. I've been married to my wife, Jill, for just over 40 years now and Jill lives with wet and dry age-related macular degeneration (AMD)."
Meet Tom

"Most of the lessons we learned in our marriage was you take one day at a time, you take it and you take everything you do when you find out what you have to.
My name is Tom, my wife is Sandy, and she has wet AMD."
While Tom and Joe both have their own distinctive stories to tell, they have also faced many similar moments which connect them deeply. Harnessing their individual accounts, as well as the wider conversations from the supporter community, we have built a picture of the stages and events which can be experienced along the supporter timeline.
For each milestone, the real experiences of family and supporters can provide guidance for others who find themselves in a similar position.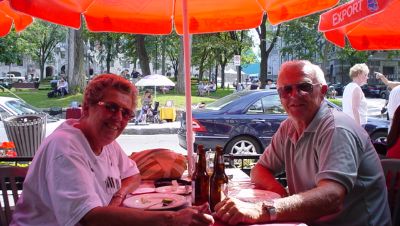 The First Signs of Low Vision

Everyday Life with Low Vision

The First Signs of Low Vision

Changes to vision often happen as we age. As a supporter, it is easy to miss or give less thought to what many consider to be a normal part of growing older, but in fact may be a more serious condition. This was the case with Tom, who initially believed Sandy's low vision was caused by cataracts.
"We didn't know what it was. We thought it was cataracts because she'd tell me, 'That's the wrong colour shirt you've got on.', and I'd say, 'It's blue!', and she'd say, 'No, it's green!'."
At a certain point — sometimes quickly or after some time — families and supporters will either notice changes to vision, or be told so by their loved one. This happened for Joe and Jill during a holiday.
"My knowledge of AMD prior to Jill's diagnosis was absolutely zero. Jill and I were on a cruise as a matter of fact, and Jill was complaining a lot about the LED lights, and that how much they were bothering her eyes. It was concerning but nothing more than that."
A fear of the unknown can trigger anxiety for family and supporters, particularly if there is a long period between first noticing symptoms and an accurate diagnosis.
Family and supporters may also be responsible for providing support to and from numerous tests, hospital, or clinic visits, which can take both a physical and emotional toll.
For family and supporters when the first signs of low vision show:

Joe's advice

"My wife's experience with low vision started with some very mild symptoms. I thought this was just the progression of aging and really did not think much of the events. Then Jill experienced an acute change while doing errands with my grandson in the car. Thinking back to that day, I wish I understood the magnitude of Jill's experience. I wish I was even more sympathetic to the fact that this was a life-changing event."

Tom's advice

"One of the most important lessons I've learnt from our marriage is taking one day at a time. And that's exactly what we did when Sandy was diagnosed with wet AMD. We initially thought it was cataracts, and we had no idea what AMD was at the time. Thinking back, I wish I understood what she was going through earlier so she could have been diagnosed sooner."

Getting a Diagnosis

Receiving a low vision diagnosis can be tough for family and supporters. Sometimes it is a relief to find the cause of their loved one's low vision. However, the reality of an incurable condition can result in a period of grief. Supporters may feel lonely and unsure how they will be able to help their loved one.
For Jill, Joe's wife, her diagnosis was particularly overwhelming as it meant she could no longer work as a nurse, something which was incredibly important to her.
It is the numbness of hearing such challenging news that often means those, on first receiving the diagnosis, hear little else from their doctor. They can enter a state of shock. This is where family and supporters play a key role, by not only holding their loved one's hand, but acting as an extra pair of ears in the doctor's office.
Joe

"When Jill goes to see her macular doctor or her low vision specialist, I'm inside the office with her, not just in the waiting room, but I'm inside the exam room listening to make sure that we both understand completely what's going on."

Despite the life changing nature of the diagnosis, family and supporters do not always leave the clinic knowing how their future will be impacted. How much time will I spend in hospital with my loved one? How will the diagnosis impact our finances and my ability to work? Will we still be able to go on holiday or partake in our hobbies? These are just several of many questions that may be unanswered.

For family and supporters at diagnosis:

Joe's advice

"The encouraging part of Jill's diagnosis is that I am, and continue to be, 100% committed to Jill's well-being. I had never imagined that I would be the caregiver in our relationship. Jill was always the healthier of the two of us. With all of the negative impact that Jill's low vision has had on us, we are committed to each other, and we can do this together. We are closer now than ever."

Tom's advice

"When Sandy was diagnosed with AMD, I tried to give her some encouragement by telling her "You don't need your eyes to sing a song, you can still pursue your passion for singing". I think it was really important for Sandy to continue doing what she loved."

Everyday Life with Low Vision
As the reality of the condition sets in and family and supporters experience the impact of the diagnosis on their loved one, their aid can take many different forms, both physical and emotional.

Naturally, the relationship between a person living with low vision and their family and supporter can change from before the diagnosis. It may take some time for them to come to terms with this, but it does not mean the mutually supportive relationship they once had has gone.
"Sandy took care of me four years ago for five or six months when I couldn't do anything. I was operated on. She took care of me then, so hey, it goes back and forth."
Independence is such an important aspect following diagnosis. Many family members and supporters step in to help with transport or jobs around the house. However, completely taking away a loved one's ability to be independent is not the solution. Joe found this challenging at the beginning of Jill's diagnosis.
"I find myself sometimes trying to help Jill use her phone, I try and help her maybe do some cooking, and I need to gain more patience and let her just develop her own new ways of doing these things instead of doing it for her."
For family and supporters during everyday life:

Joe's advice

"Be patient. Learn everything possible about the disease and treatment. Be there for the mood swings and the depression. Be prepared to make any changes in your life to help your loved-one progress through this disease. Try to appreciate the loss that your loved one is experiencing. Make changes in your daily routine to check in on your loved one. Experience new things and travel, at any expense, so that they can "see" the world before things change."

Tom's advice

"Be there for each other. Just like Sandy helped me when I needed her, I'm here to help and encourage her now that she needs me. I've never missed an appointment with her retinal specialist, even if I can't enter the room, it's important for Sandy to know that I'm there."

In Closing
The role of a supporter for someone living with low vision is broad and evolves through time. The real experiences found here represent years of trial and error, of emotion and a desire to help a loved one live a fulfilling life.

This is the beginning of a series of blogs which will cover more specific topics that may be useful for family and supporters. Watch this space!

Meet Joe
Supporting his wife of over 40 years to stay independent despite low vision
The Forum
Explore frequently asked questions, and answers from The Visionaries