Meet the Visionaries

Every person living with low vision encounters unique experiences and challenges.
The Visionaries are an inspiring group of people living, or supporting loved ones, with low vision.
Here we share their unique realities of life with low vision. 
Roche and Retina International are proud to present these true stories
Get to know our Visionaries and their stories
Living life to the fullest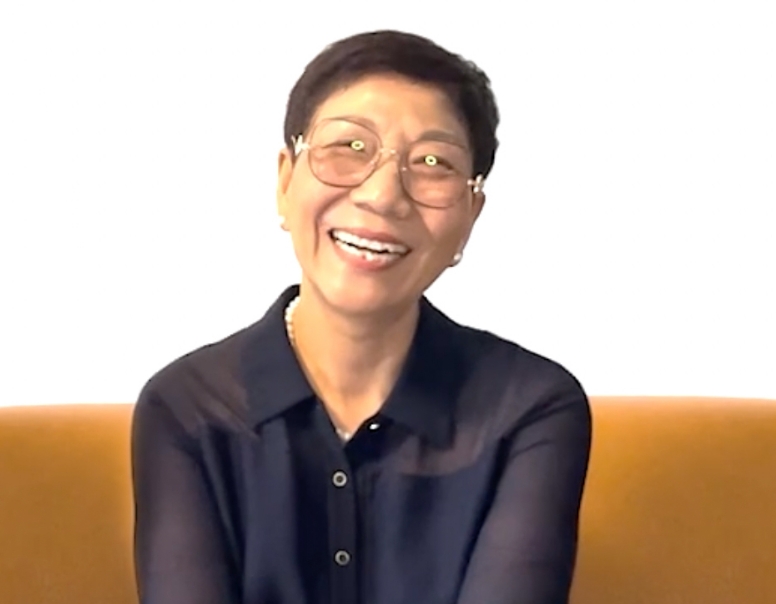 Overcoming challenges together

Brigitte: Living life to the fullest
This is Brigitte's story. After the shock of her dry age-related macular degeneration (AMD) diagnosis, which progressed to wet AMD, technology has played an important role in keeping up with the everyday tasks.

Brigitte has found new ways to continue her hobbies and is knitting thanks to finding the perfect lighting, needles and wool which suit her needs.  
"Allow yourself to enjoy life… I see the glass half-full, not half-empty."
Caryl: Peer support
This is Caryl's story. Her personality shines in whatever she does; taking control of the challenges dry AMD presents.

Although she had to stop working and lost some of her independence, through adaptations and the help of peer support, Caryl can still do many things that she loves. Being able to bake again brings her constant joy.
"I'm happy with what I've got, and if it does progress, then I will adapt because that is what it's all about. It's adapting or transforming your life and making it a reflection of your own personality."
Evella: Healthcare teams

This is Evella's story. Evella took a big hit to her independence when she was diagnosed with diabetes-related macular edema (DME) and her leg was amputated due to diabetes-related complications.
Despite the circumstances, the support Evella received from her daughter, Jamie, and playing an active role in her healthcare decision making meant she could carry on enjoying life.
"I don't know that I hold a lot of hope for something better than this. I think I focus mostly on enjoying every minute of this because I don't know how long it's going to last."
Evella and Jamie: Daily independence

This is Evella and Jamie's story. As well as her mum, Evella is Jamie's best friend, and their close relationship has helped them both through the challenges of life, including when Evella was diagnosed with DME.
Jamie takes an active role in Evella's healthcare, making sure she can get to her appointments, helping to digest any information shared in clinic and always there to support Evella after treatment.
"One of the things that has been really rewarding, after treatment, is watching her be able to be more independent again, watching her not be as scared to venture off and do things on her own again."
Fulvia: Taking action

This is Fulvia's story. AMD was not unfamiliar to Fulvia. Her mother had an advanced form of the condition at the time when Fulvia was diagnosed. However, through the support of her close family and positive treatment experiences, Fulvia's condition has remained under relative control.
Personal independence has always been important to Fulvia, and she will continue to do what she can to maintain it.
"If I were to give a piece of advice to anyone, I would urge them not to wait around at all. Even in the case of mild symptoms that could look insignificant, to get checked, to be seen by a doctor."
Mr Gong: Accepting a diagnosis

This is Mr Gong's story. He had no symptoms of wet AMD when he was diagnosed, only finding out through an unrelated health appointment.
Knowing that the condition could not be cured was a massive blow for both him and his wife, Ms Zhang.
It took Mr Gong a long time to reflect on the news, but through the support from Ms Zhang and his healthcare team, he knew he could look positively on his life.
"I think my biggest achievement is that I am psychologically stronger. I can face up to my eye problem. I am not scared anymore."
Ms Zhang and Mr Gong: Overcoming challenges together

This is Mr Gong and Ms Zhang's story. When Mr Gong was first diagnosed with wet AMD, Mr Gong and Ms Zhang really felt the effects of the condition. They faced a significant financial blow from treatment costs, and frequent hospital visits and Ms Zhang's supporter responsibilities took precious time away from them.
However, they overcame these challenges together. Their strong relationship, built over years together helping one another, has allowed them to arrange their lives in a contented and purposeful way.
"After calming down, I thought this [wet AMD] didn't affect our relationship because it is an illness. People become unwell. If it is not this condition, then it would be something else."
Jess: Emotional wellbeing

This is Jess'* story. She received an unexpected diagnosis of diabetes-related retinopathy and DME shortly after graduating from university.
In the beginning, Jess found treatment challenging and received little support. She became depressed, but a psychiatrist helped her feel more positive about the future.
"It's difficult, but I'm determined to live my life as an ordinary person, to work, and have my own independence."
* This is a real story of a young women living with DME in China. To respect her wish to remain anonymous, we are using the pseudonym of Jess and a voiceover actor in this podcast.
Listen to Jess's story
Previous chapter
Next chapter
Introduction to the podcast and guests

0

The impact of a DME diagnosis

151

Screening and early detection

471

Management journey and stigma: language matters

867

COVID-19 and living with diabetes

1380

The importance of support

1727

Hopes for the future

1917

Summary of discussions and closing

2140
Jill: Family support

This is Jill's story. After leaving her career as a nurse, following her AMD diagnosis, Jill has found talking therapy helped her. 
Jill's family team together to help with her low vision - including her grandchildren, who race to help pick up anything she might have dropped.
"My grandsons are all involved in sports… whether I can see them or not, I'm there… that's important for me, to be there with them. I won't give that up."
Joe and Jill: Travel and independence

This is Joe and Jill's story. They spend their time travelling as much as they can and enjoying precious family time.  
After 40 years of marriage, they support each other every day and go to each other's medical appointments as, Jill says, "four ears are better than two." 
"It's so important to gain patience in allowing the person with AMD to still be independent."
Sandy: Hobbies and community

This is Sandy's story. Sandy is always finding ways to do the things in life most important to her, while living with wet AMD. 
Going online helped her be more informed about her diagnosis and find support groups sharing tips on life with low vision – including how to put your make up on!
"When people are first diagnosed with wet age-related macular degeneration, it can be traumatic for some, I'm sure. I've been extremely active during all of the years [with AMD]… Attitude probably is one of your most important assets when you have any disease."
In this film, Sandy mentions 'shots', which is an informal term in some countries for injections.
Tom and Sandy: Day by day

This is Tom and Sandy's story. Together 64 years since high school, they have made certain changes in their lives, playing to their individual strengths to support each other's health, including adapting to Sandy's needs while living with wet AMD. All to keep doing the things they love, together. 
"You take one day at a time… It's like everything, you have good days and bad days."
Glossary – defining the terms
Age-related Macular Degeneration (AMD) can happen when aging causes damage to the macula, responsible for central vision. AMD progresses slowly over time, though the speed can change according to which type of AMD you have.
Dry AMD refers to the thinning of the macular as you age, affecting the cells responsible for seeing in colour and can result in challenges seeing in low lighting.

Wet AMD refers to late-stage AMD and occurs when new blood vessels leak fluid or blood at the back of the eye, causing damage to the macular. This can mean that straight lines may appear to look wavy in central vision, colours less bright and hallucinations.
Healthcare professionals refer to the condition AMD as `neovascular', 'wet' or 'dry' depending on the type and stage of AMD, which are all correct medical terms. 'Wet' and 'dry' are widely recognised by the patient community so are used across Visionaries materials. In some instances, patients may use more medically recognised terminology like 'neovascular'.
Diabetes-related macular edema (DME) is a common cause of low vision in people living with diabetes and results in a condition similar to wet AMD, affecting central vision. DME can severely impact a person's quality of life by limiting the ability to perform daily tasks, increase loneliness and affect mental health. It is the leading cause of low vision among working-age people in the Western world.
Healthcare professionals refer to diabetes-related low vision conditions as `diabetic macular edema' and `diabetic retinopathy', which are the correct medical terms for these separate conditions. The patient community prefers to not use the term `diabetic' for several reasons, so we might refer to the conditions as `diabetes-related'. Please note that we are describing the same conditions.
Coming soon…
…stay tuned for more realities, experiences and tips from our community of Visionaries
Meet Joe
Supporting his wife of over 40 years to stay independent despite low vision